Nordic Naturals
---
Clinical research has found that Dry Eyes and Age related Macular Degeneration to be nutrition responsive disorders. Be advised that "one-a-day" multivitamins typically deliver below the recommended levels for eye health. Our doctors are an excellent source for information regarding supplementation and look forward to assisting you at your next visit by adding power full anti-oxidants and Omega-3's to your diet which will improve your eye health.
Did you know that daily in take of certain nutrients- either through foods or supplements-has been linked to healthy eyes and may reduce the risk of some chronic eye conditions such as "Dry Eyes" or "Macular degeneration"? During the course of your eye exam, Doctor Allan Smith of English Rows Eyecare will determine if your eye condition would benefit from supplements. If needed our practice will dispense the supplements that will help you maintain healthy eyes or reduce the risk of developing a chronic eye disease.
ProOmega: Omega-3 for Dry Eyes
Nordic Naturals Omega-3 provides an excellent source of omega-3 fatty acids in high mg amount to see benefits and natural form for optimal absorption. Omega-3 fatty acids are needed daily, and must be obtained from our diet since our body does not produce these fats. Nordic Naturals Omega-3 is a great-tasting, fresh, and pure source of omega-3s and vitamin E. Omega-3s support proper cellular flexibility, cardiovascular health, & supports tear production. Did You Know? Omega-3s (EPA+DHA) from purified fish oil
Supports the body's natural anti-inflammatory response to promote healthy eyes
Relieves eye redness, dryness, pain, and inflammation
Supports tear duct production and optimal tissue moisture
Helps maturation of visual system and visual acuity of infant during pregnancy
Is natural and safe for long-term use
2200mg EPA+DHA per 4 soft gels show results for Dry Eyes in a little as 4 weeks
---
Did you know that ProOmega is also available in liquid form? For those people who prefer not to take the capsules, we can also order it for you as well.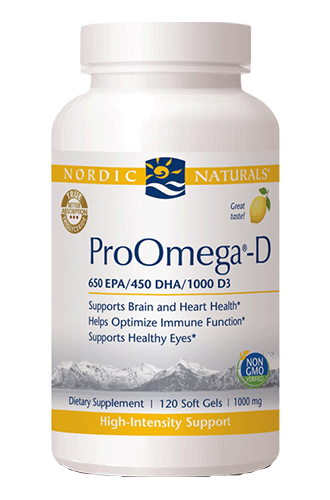 Nordic Naturals Order Request
Thank you for your interest in the Nordic Naturals product line. We stock ProOmega 120ct capsules in our office and can be picked up. If you would like to place a custom order, please complete the form below and we will be glad to order it and have the product shipped directly to you if needed as well.